Research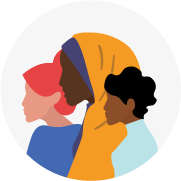 There is a diversity of research relating to the issue of violence against women.
Key publications and research relating to violence against women
Evaluations and Progress Reports
Cost of Violence
Family and Domestic Violence Workforce
Children
Housing
Australian Housing and Urban Research Institute (AHURI)
Culturally and Linguistically Diverse Communities
A platform for action: Report from the national roundtable on responding to violence against culturally and linguistically diverse women and their children (2015) (PDF) (DOCX)
Perpetrators
Other
Australia's National Research Organisation for Women's Safety (ANROWS) publications
ANROWS publishes a range of publications focusing on new, innovative and emerging research, policy and practice initiatives addressing violence against women and their children.
Our Watch
Our Watch is an independent, not for profit organisation established to drive nationwide change in culture, behaviours and power imbalances to prevent violence against women and their children.
Child Family Community Australia, Australian Institute of Family Studies (AIFS)
Child Family Community Australia (CFCA) is AIFS' information hub for evidence, resources and support for professionals working in the child, family and community welfare sector. CFCA publish a range of publications and resources on family violence
Australian Institute of Criminology
The Australian Institute of Criminology publish research on policing and criminal justice responses to family and domestic violence and conduct the National Homicide Monitoring Program.
Australian Institute of Health and Welfare
The AIHW produces high-quality reports and other information products, on key health and welfare issues in Australia. These are used to improve the delivery of health and welfare for Australians.
Australian Law Reform Commission
The ALRC conducts inquiries—also known as references—into areas of law at the request of the Attorney-General of Australia. Based on its research and consultations throughout an inquiry, the ALRC makes recommendations to government so that government can make informed decisions about law reform.
Attorney-General's Department
The Attorney-General's Department delivers programs and policies to maintain and improve Australia's law and justice framework.
COAG Advisory Panel on Reducing Violence against Women and their Children
The Prime Minister announced on 28 January 2015 the establishment of an Advisory Panel on Reducing Violence against Women and their Children. The Advisory Panel provided expert advice to the Council of Australian Governments (COAG) to address the problem of violence against women at a national level.
Data
Data Sources
ABS
National Community Attitudes towards Violence Against Women Survey (NCAS)
Australian Longitudinal Study on Women's Health (ALSWH)
Australian Human Rights Commission (AHRC)
Australian Domestic and Family Violence Death Review Network
Access a comprehensive list of publications and articles on reducing violence