Evaluation of the National Plan to Reduce Violence Against Women and Their Children 2010-2022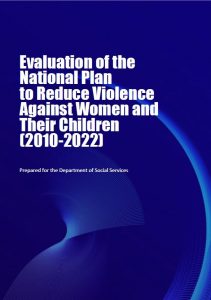 The National Plan to Reduce Violence against Women and their Children 2010-2022 (the National Plan 2012-2022) was established by all Australian Governments to lead the response to improve women's safety. The National Plan was implemented through 4 three-year Action Plans.
The Department of Social Services engaged KPMG to undertake an independent evaluation of the National Plan 2012-2022 using a mixed-methods approach comprising 3 core components: implementation (process) evaluation; outcomes evaluation; and future directions.
The evaluation was informed by a series of data collection methods:
Quantitative assessment of outcomes
Desktop research
Prior research and evaluations of initiatives under the National Plan
Social media analysis
Frontline worker survey
Stakeholder engagement.
If you are having any issues accessing the documents please email FamilySafetyEvidence@dss.gov.au